One of the most dangerous causes of death for anyone is car accidents. They happen for many different reasons and children are small and more fragile. This is one of many reasons why car seat safety is so vital.
What Car Seat Should I Buy?
There are many different brands of carseats and I recommend before buying any one that you do your own research. This includes looking up crash statistics, studies and brand strength recommendations. I definitely would recommend finding studies done by a third party. This is a great resource here. It is however three years old and there may be more recent studies.
Many of the most well known brands include Graco, Chicco, Evenflo, and Britax.
Infant Car Seat or Convertible?
There are two options for car seats when it comes to a newborn. Infant Car seats are mobile. You are able to release them from the car while leaving the child strapped in and carry the car seat around. This is a great option when your child is new, small, and lightweight. As they grow it can become a hardship to carry the baby around in the bulky car seat. Perhaps then it's a good time to change to a convertible car seat.
Convertible car seats generally allow for a child between the weight of 4-65lbs. This will mean the same seat can be used for a newborn (rear facing) then as they grow past the rear-facing weight limit (generally 40lbs) they can be switched in the same seat to forward facing, then a high back booster, then just seat booster.
I personally used both, infant car seat while they were small, then switched to a rear-facing convertible seat. Now my daughter is forward facing in her seat at three years old and my son is rear-facing at 1.5.
Car Seat Installation
There are several important factors when it comes to installing a car seat in your car. First is position. If you're able to having the car seat in the middle of the back seat is safest. This keeps the child away from both doors and better distance from a collision on either side. If you're like me and have more than one child, especially more than one child in car seats this isn't possible.
One way to install the car seat is with the seatbelt. Read the instructions that come with the carseat and instructions on the car seat to put the seatbelt through the right path and secure it. This includes pulling the seat belt as tight as possible for a snug, tightly secured seat.
If your car seat has them tethers and your car has anchors this is also a great way to secure the seat. Do not however use both the seat belt and latches at the same time. Again, read instructions thoroughly. If you need help installing your car seat many, if not all, fire stations in your area should be able to help install them securely.
Securing Your Child
Now that your car seat is securely installed in your car it's time to secure your child in the car seat. It is important to secure the five point harness and tighten the straps so there is no room to pinch the straps. Shown below. Also the chest clip should be positioned high on the child's chest. Your child should be wearing thin layers when placed in the car seat. Bulky coats and clothing hinders how tight you can pull the straps.
Do NOT use any products or cushions that were bought separately. This includes shoulder straps and head pillows for infant car seats. They have not been tested with the seat and should not be trusted to be safe and secure for your child.
Infant Car Seats and Child Safety
Infant car seats are wonderful because you are able to carry around your baby without taking them out of the seat. However, there are several safety factors that must be considered when doing so. There are many things you should not do….
*DO NOT place your child in an infant car seat and place the car seat on the seat of a grocery cart. This is unsafe and a falling hazard. It is better to place the car seat in the large basket of the cart. I personally recommend when grocery shopping, especially if going to buy a large amount, is to baby wear. Placing food and grocery items around the car seat can also be harmful.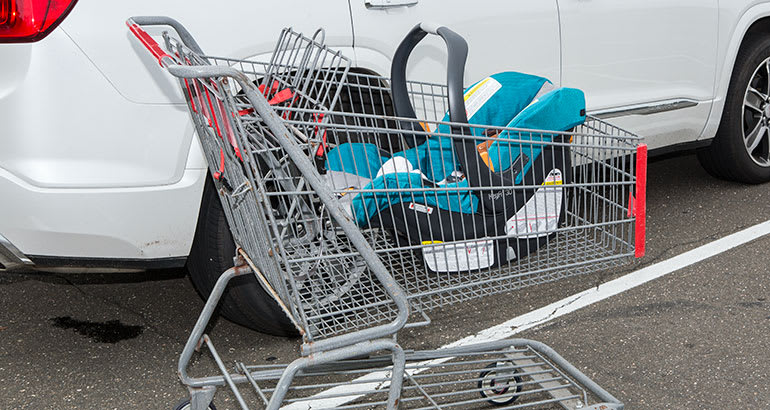 *DO NOT place child in infant car seat on a high counter, table, couch, or bed. Always place on the floor. Also do the to the risk of falling.
*DO NOT unstrap your child, loosen straps, or remove any straps when moving the car seat out of the car.
Car Seat Recalls
Like many other products car seats may be recalled when the manufacturer finds some fault or hazard that may risk the safety of your child. It is important when you purchase a car seat to register it with the manufacturer. This way, if a car seat is recalled they'll have your contact information in order to inform you. It is important to check on recalls and to stop using a car seat if it has been recalled.
Car Seats and Car Accidents
According to the National Highway Traffic Safety Administration (NHTSA) it is important to replace car seats if the car was in a car accident, even when the child was not in the car seat at the time. This is due to the force of the crash. It can damage the car seat even if you do not visibly see damage.
Sarah
Similar Posts: